Highlights
UN Women and the People's Republic of China are co-hosting a "Global Leaders' Meeting on Gender Equality and Women's Empowerment: A Commitment to Action", on 27 September 2015, at UN Headquarters in New York. Held in conjunction with the United Nations Summit for the adoption of the post-2015 development agenda, Member States' Heads of State or Government are invited to make concrete commitments to accelerate implementation of the Beijing Declaration and Platform for Action and achieve gender equality and the empowerment of women no later than 2030. More
In the words of...
Zeid Ra'ad Al Hussein is the United Nations High Commissioner for Human Rights and has extensive experience in international diplomacy and the protection of human rights. Here, he discusses achievements and gaps in guaranteeing equal rights for all, and stresses the importance and courage ofwomen human rights defenders, and the challenges they face.
Women of achievement
A messenger of peace, a mother of ten children and leader of the first Peace Hut and Women's Empowerment Centre of Liberia, Annie Nushann is a household name in peacebuilding in her post-conflict country. With 17 Peace Huts and Women's Empowerment Centres now in operation, 425 women leaders have been trained on conflict resolution, peacebuilding, and economic empowerment, and some have even begun training others.
In Afghanistan, she is known as the first female provincial governor, no small feat in a country that has weathered conflict and hardships for nearly 40 years. Through it all, Dr. Habiba Sarabi's passion for human rights and education for women have grown every day.
Featured Video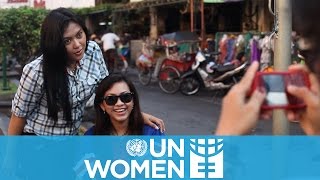 Almost 20 years ago, 189 countries adopted the Beijing Declaration and Platform for Action, a visionary roadmap for women's rights and empowerment. Much has been achieved since, but much more needs to be done and can be done. A world in which gender equality is a reality: Picture it!