Highlights
UN Women and the People's Republic of China are co-hosting a "Global Leaders' Meeting on Gender Equality and Women's Empowerment: A Commitment to Action", on 27 September 2015, at UN Headquarters in New York. Held in conjunction with the United Nations Summit for the adoption of the post-2015 development agenda, Member States' Heads of State or Government are invited to make concrete commitments to accelerate implementation of the Beijing Declaration and Platform for Action and achieve gender equality and the empowerment of women no later than 2030. More
In the spotlight: International Day of the World's Indigenous Peoples
Commemorated annually on 9 August, this year's International Day of the World's Indigenous Peoples puts a spotlight on the health and well-being of indigenous peoples' in the context of the Post-2015 agenda. In commemoration of the day, we highlight gender equality advocates who have lead efforts to improve the lives and well-being of indigenous women.
Women of achievement
When Marcelina Bautista Bautista left her indigenous Mixtec community in Nochtixtlan, in the Mexican state of Oaxaca, at the age of 14 with only a primary school education and no knowledge of Spanish, she didn't dream that one day she would end up contributing to the development of an international treaty for domestic workers' rights.
Georgina Beyer paved a new path when she became the world's first openly transsexual mayor in 1995, as well as the first openly transsexual Member of Parliament (MP) in 2000. A long-standing human rights advocate, her legacy includes a long and powerful list of legislative reform in New Zealand.
Featured Video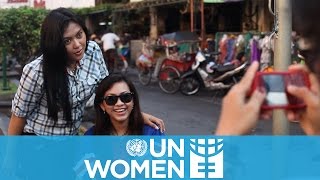 Almost 20 years ago, 189 countries adopted the Beijing Declaration and Platform for Action, a visionary roadmap for women's rights and empowerment. Much has been achieved since, but much more needs to be done and can be done. A world in which gender equality is a reality: Picture it!