Highlights
UN Women and the People's Republic of China are co-hosting a "Global Leaders' Meeting on Gender Equality and Women's Empowerment: A Commitment to Action", on 27 September 2015, at UN Headquarters in New York. Held in conjunction with the United Nations Summit for the adoption of the post-2015 development agenda, Member States' Heads of State or Government are invited to make concrete commitments to accelerate implementation of the Beijing Declaration and Platform for Action and achieve gender equality and the empowerment of women no later than 2030. More
In the spotlight: International Literacy Day
International Literacy Day is commemorated on 8 September, and the theme for this year is "literacy and sustainable societies". We take this day to celebrate literacy and knowledge as a strong enabling factor for sustainable development.
In the words of...
Raised in Nigeria, Nnenna Agba gained popularity when she went on the widely watched television show America's Next Top Model. Nnenna is supporting the education of her four sisters in Nigeria, and is the face of Kechie's Project, an NGO that provides scholarships to girls from Nigerian schools.
Nicola Grinstead is Chair of the World Board of the World Association of Girl Guides and Girl Scouts, a global movement of 10 million girls and young women in 146 countries, dedicated to supporting girls and young women to reach their full potential. In this op-ed, she emphasizes the importance of life-long learning, non-formal and self-directed education and engaging girls and boys to eradicate gender-based violence.
Women of achievement
Christiana Thorpe is Sierra Leone's first female Chief Electoral Commissioner. She serves as the Chairperson of the National Electoral Commission (NEC), the entity with the sole authority to prepare and conduct all public elections. A former nun, school teacher, principal, and professor, she values education and freedom above all else.
Featured Video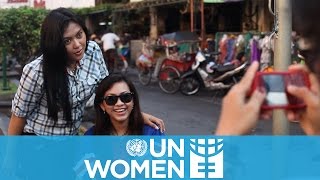 Almost 20 years ago, 189 countries adopted the Beijing Declaration and Platform for Action, a visionary roadmap for women's rights and empowerment. Much has been achieved since, but much more needs to be done and can be done. A world in which gender equality is a reality: Picture it!