Highlights
From Australia to Jordan, global, regional and national events are taking place in all corners of the globe in the lead up to the 20-year anniversary of the Beijing Declaration and Platform for Action (Beijing+20). Join us, picture a world where gender equality is a reality for every woman and girl. More
In the words of...
Fatou Bensouda of the Gambia was elected by consensus as the Prosecutor of the International Criminal Court (ICC) in December 2011. The former Head of the Legal Advisory Unit of the UN International Criminal Tribunal for Rwanda, and former Deputy Prosecutor of the ICC, she has played a key role in major international criminal law cases over the last three decades.
Women of achievement
In Afghanistan, she is known as the first female provincial governor, no small feat in a country that has weathered conflict and hardships for nearly 40 years. Through it all, Dr. Habiba Sarabi's passion for human rights and education for women have grown every day.
Annie Nushann created the first Peace Hut of Liberia, a safe space for survivors of sexual and gender-based violence, but also a training ground for women to lead peace negotiations. With 17 Peace Huts now in operation, 425 women leaders have been trained on conflict resolution, peacebuilding and leadership.
Featured Video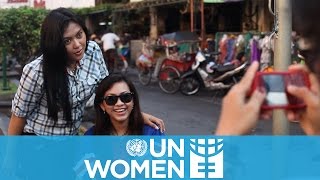 Almost 20 years ago, 189 countries adopted the Beijing Declaration and Platform for Action, a visionary roadmap for women's rights and empowerment. Much has been achieved since, but much more needs to be done and can be done. A world in which gender equality is a reality: Picture it!